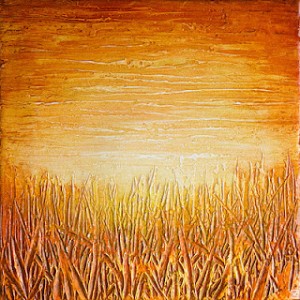 It's Superbowl Sunday, but I'm more than happy to be in my office here at UW working on papers and event materials. I can get all the football updates I want from Twitter, after all. I've got a few exciting things to talk about this week, the most exciting of which is that we have a new sponsor for Canvas and Candlelight. In addition to being entered into a draw for Day Draws to a Close, generously donated by Nik Harron, every package purchased nets you a ticket into a separate draw for a hand made cedar planter from Great Saunas. That means that even if you win a planter, you can still win the painting! Come out to THEMUSEUM on Valentine's Day, have a great time, and support community art programs like Homer Watson House's Art in Focus. A ticket for two to the whole event is just $50, so get yours now!
In academic news, I have two out of the three advisors I need for my final papers. Instead of writing a single thesis, I opted to write three shorter papers, which reduced my writing load by significantly increased my research time. Still, I'm looking forward to the challenge. I already have three topics, and I'm going to be posting updates here, in part because it means that every week I want to have something to update. My topics are:
Obligations of Authenticity in Social Media
Power Relations and Ethics in Multi-level Games
Applied Stakeholder Ethics
I can't go into too much detail (I have to write the papers, after all) but I've been working around some of these topics for the past year or so, so it's a little awesome to get to work on them directly, especially under my advisors.
Speaking of Philosophy, this week's Concept Crucible takes on a controversial figure in our mythology in the ethics of the Santa Myth, as well as a lesson in conjunction. TPK teaches you what you can learn from Killer GMs, and outlines the Gods of the Three Thrones, with a promise of some of the locales of Temir next week.
Coming up in the next week, I have an event planning meeting at Hopespring Cancer Support Centre, an organization in the region that specializes in nonmedical support for patients, as well as the first of my new D&D games, which I am probably unreasonably excited about. All in all, a good week. What did you get up to?