I've spent most of the week in an internet wasteland, which unsurprisingly drives me utterly mad. Things start to fall behind, and there's only so long I can work from my phone. Writing blog posts and hunting for jobs become very difficult without a connection. I spent many a night hunting for coffee shops and restaurants that didn't mind me sitting there for six to seven ours working, as well as interviewing for jobs and babysitting a wonderful pair of kids. I want to start writing about my job hunt soon, because I'm learning a lot of helpful things. It's been a busy week, but here's what I've done in brief, and the things I've learned from my experiences. 
Engage!
I attended the information session of Engage! KW, and I really hope to be in their 2012-2013 class. It's a great opportunity to work with new people on projects that will give back to my community, and further develop my leadership skills. Engage! KW is run by the KW Community Foundation, which focuses on developing the tri-cities and addressing the genuine concerns of the community. While I was  there, I reconnected with a lot of old friends, made some new ones, and learned that almost half the people I know are involved with the program in some way. For a big city, this really is a small town sometimes.
Griffindays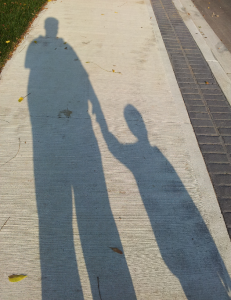 Most of my week has been taken up watching Griffin, the son of a friend of mine. We go to the park, watch movies, hang out, and generally have a good time. I try and get some work done from time to time, but honestly, I don't know how full time parents manage to do it. Even when he's off doing his own thing, he occupies this segment of my attention that I find hard to get around. Still, practice makes perfect, I suppose. We've been watching a lot of movies together, and he's been exposing me to media I've never seen before, like the Tigger movie, and the Magic School Bus show. It's pretty interesting stuff, and I'm happy to see that writing children's shows has come a long way from when I was a kid. There'll be more on that in Concept Crucible this week. Babysitting has been an impressive source of inspiration.
Headshots 2013
Our first meeting for Headshots from the Heart 2013 was this week, and I'm really excited. We've got a fresh team and a fresh vision, and a lot of opportunities to learn from last year. Not to mention that Borderlands 2 came out this week. We have a lot of plans to make next year's event bigger and better, and we're looking for players and volunteers, so if you're interested in helping out, or even playing for 24 hours straight, drop me a line!
A Hunting We Will Go
But of course, the focus of this week has been job hunting. I've been doing odd jobs, and interviewed for a few of those kinds of things. This is different from my other job hunting experiences, because what I'm really looking for is a career, a company to invest in, and who will invest in me. I'm looking for something I'm passionate about, rather than something that'll just pay my bills. The rules for that are a little different. I get to be a human being on my resume, instead of a warm body filled with qualifications, because the company is looking for a person, not just a body that can do the job. I have to look harder than I have before, and I'm looking at going farther afield than I have before. It's a bit stressful, but also a lot of fun, ad I sometimes can't believe all the support I'm getting. Every day I get messages with people shooting me leads.
Everything that's happened this week will unfold over the next month, and especially the Engage! KW program, Headshots, and my job hunt. It may see me taking a greater role in the community, or even looking at moving to another one, but one way or another, I'm going places.