So it's the last day of Movember, and here we are. I've done pretty well, considering that it's my first time, and I'm already alight with ideas about how to do better next year. Jodi won the bidding on my moustache, and opted to keep it just the way it was. I've been busy with papers and events, so I haven't managed an update every day, but I have been taking pictures and appearing around town, so here's a places I've been and people I've been with.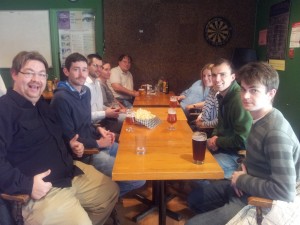 On Friday I was at the office, and couldn't miss the chance to head out the grad house after our PGSA meeting and hang out with them. Grad school is about more than writing papers and going to class, it's about being part of a community of other students and developing relationships with professional scholars. Across from me is my office mate Jessey, with whom I commit many crimes of game design, and next to me is Peter, another student who is also rocking the moustache, though he looks way less excited about it than me.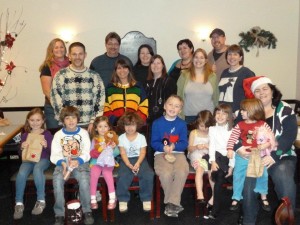 On the weekend I went to Sweater Breakfast, a yearly christmas breakfast at the Galt View Restaurant in Cambridge. I had a great time, and was supported by my Mobros Mike and James, as well as my MoSista (I don't make up these words for people) Lisa.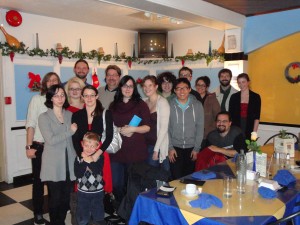 Last night I went to the Classical and Medieval Studies Student Society's end of term dinner at the Three Kretans in Kitchener, ate some great food, and got to spend time with friends that I don't get to see as much any more, having sealed myself in my office in another building. It was great to catch up with friends from my undergrad and see how they're doing. We talked about video games, community service, risk/reward rationality, and the value of studying history, all reminders that I need to spend some more time with them.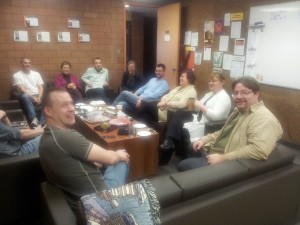 Here I am today with some of my professors and a few other grad students at lunch in our department lounge. They get together every day, and it's always a great time. At first I was reluctant to go, I was a little intimidated by the thought of having lunch with and possibly embarrassing myself in front of people I respect and admire so much, not because they'd think badly of me, but because it would mean that I'd failed them somehow. Another grad student convinced me otherwise, pointing out that everyone feels like that at first, but you get over it, and I did. I've learned a lot, both about them as scholars and about them as people, and now I try to be there every day. Today was our last lunch with Ann Garry, who visited us from California for a term as the department's Humphrey Chair in Feminist Philosophy.
So that's my Movember. I hope you've enjoyed following it as much as I've enjoyed living it, and hope that next year you'll pitch in again by donating or growing your own. I'll have the Movember song up in a few weeks, I want to get a good mic to do it, rather than the headset mic I've been using for the small pieces. Tomorrow night is the Movember Ball at theMuseum, where I'll be juggling for a while and then joining the party. Come on out and have a good time, because Friday I'm shaving this thing off.