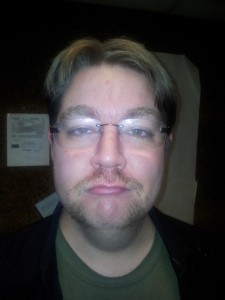 Halfway through, and I'm now looking like a badass biker. Okay, that's probably not true. But it's coming along. Tonight I'm off to McCabe's with the rest of my Movember team for their MoCabe's Movember tweetup. I've raised $45 dollars so far, which is more than I've ever raised before. My goal is $200, so I'm almost a quarter of the way there, though it's halfway through the month. So I want to up the ante a bit. My handlebars are coming along, but I'm not growing them for me, I'm growing them for you, so really, I should be giving you the kind of moustache you want to see. For the next week, donate, and even if it's just a dollar, comment on my MoSpace to tell me what kind of moustache you'd like me to wear for the last week of Movember. Whichever style raises the most money, not only will I shave myself to best resemble it, but I will go out in public with it. Each day from the 24th to the 30th, you'll find pictures here of me enjoying my moustache in public places in Kitchener Waterloo with the people who live here. Some options include, but are not limited to:
The Math Teacher: I'll shave off the handlebars, and walk around looking like somebody's dad.
The Chaplin: Short, sweet, and to the point, just like Charlie.
The Half-Stache: Left side or right side, you decide.
This Space Intentionally Left Blank: I'll leave the sides, and shave the middle right out.
Never Gonna Give You Up: Keep it the same? It's an option.
Do you have more ideas? Donate and vote! Voting closes at midnight on November 23rd.
Also, the second part of my Movember song, which I think I'll call "String on Your Finger" is up! If you're at McCabe's tonight, you might even get an acapella performance of the whole thing!