I've been slipping on these Sunday posts as Headshots from the Heart gets closer and closer (there won't be one next week because I'll be raising money for children's hospitals). As I write this, I'm editing my final video from the International Congress for Medieval Studies and fixing to pack my bags to head home from Kalamazoo, Michigan. As always, the conference leaves me feeling changed, the question is how long it's going to stick and what I really want to stick with.
It's easy to say you'll stick with it, but harder to do. I have this urge to commit an act of research, because I'm infected by the dedication and passion of the people here. It makes me remember everything I miss about graduate school, and I have to remind myself again why I'm not going back for a phd (which I'm not. There's no danger of that).
It also makes me think of how far things have come. A friend of mine gave me this picture, which she took five years ago on my first trip to Kalamazoo. It's been a long road since then. I was 25, in my second year of university, and I think the only thing that's the same about me now from then is the smile and the bag. We sat up every night until five am talking and playing games, and it's those moments that I treasure more than the lectures or the book shopping.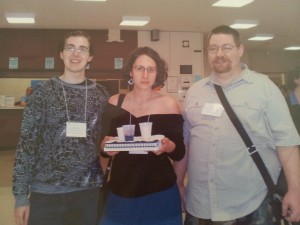 Now I'm the veteran, showing around students and newcomers to all the hot spots, sitting up chatting with them and thinking about the work I've got to get done in the morning. I thought this was my last Kalamazoo, but the one thing I've learned above all others this week is that I wouldn't trade this for anything. I'll be back, whether as a presenter, a consultant, or just an academic tourist.
Anyway, I've got to hit the road. You can check out my Youtube channel for videos about the trip, including a late night singalong of Puff the Magic Dragon, my piano challenge, where I play all the broken pianos laying around the University of Western Michigan, and a better explanation of just what the International Congress for Medieval Studies actually is. I'll see you in two weeks, after Headshots from the Heart (which has some totally killer auctions. Seriously, check them out).